LLC «Tektum» has conquered the «Customs Olympus» again!
Broker «Tektum» became the winner of the «Customs Olympus-2016» competition as the best customs broker of Russia for the fourth time.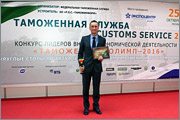 The main criteria of the assessment of winners are:
the amount of the customs payments transferred into the federal budget;
using the electronic declaring;
absence in the current year cases of accountability for violation of the customs legislation.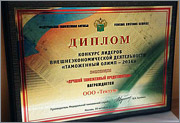 This reward attests to the effectiveness of the development and high standards of company's work.