Osinovaya Roshcha Logopark was selected as the best real estate project in decade!
Logopark became the winner in nomination «The best Russian industrial real estate project in decade».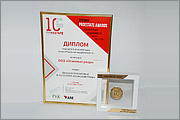 It was the first-time competition and passed within the International Real Estate Forum, that took place in Moscow on 14-16 September. The main objective of competition is determination of the smart business strategies for development and top professional achievements.
We highly appreciate this award, and it is a good incentive for further effective development of our company.